Police in the central province of Quang Tri have found two more bodies of 20  passengers still missing after a bus was swept away by floods in Ha Tinh province on October 18.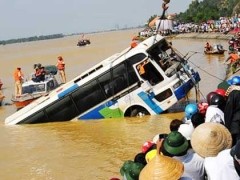 Rescuers pulled the submerged  bus ashore on October 21, 2010. (Photo: Tuoi Tre)
Two body dead were found on the sea coast of Trieu Lang commune, Trieu Phong District, Quang Tri Province on October 27/
Police confirmed that two body dead are two victims of 20 passengers missing after the bus was swept away.
Two bodies will be brought to their hometown in the northern Nam Dinh Province and Central Highland Dak Nong Province for burial.
Up to date, the bodies of 18 of 20 missing bus passengers have been recovered.
Among the two still  missing passengers is a seven-month-old baby girl.
On October 18, the bus that had been carrying 37 people was swept away by strong currents at the foot of a bridge in Nghi Xuan District, Ha Tinh province. Local authorities said 17 people managed to get out by breaking the front windows of the bus and swam ashore, some by clinging to electricity power poles.
The coach was travelling from the Central Highland province of Dak Nong to the northern Nam Dinh Province when it was swept away. The remaining passengers are presumed dead, police said.
Related articles: