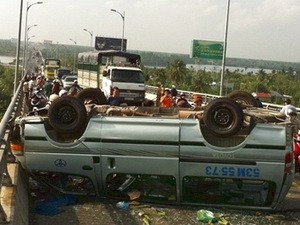 The passenger bus overturns in the Rach Mieu Bridge between Ben Tre and Tien Giang provinces in the Mekong delta
A 15-seater passenger bus and a container truck collided on Rach Mieu Bridge between Ben Tre and Tien Giang Provinces in the Mekong delta on March 17, injuring 15 people and causing a two hour traffic gridlock.
The accident took place when the container truck driver swerved too far left and rammed the passenger bus, which overturned in the middle of the bridge, injuring 15 people with nine suffering from serious wounds.
On the same day, another accident on Highway 46 A running through Kim Lien Commune in the central province of Nghe An, resulted in five people being injured.
According to witnesses, a car with number- plate 37A-036.34 travelling from Nam Dan District to the central city of Vinh crashed into a truck coming from the opposite direction, smashing the entire front of the car.