A two year old girl named Ho Thi Ngoc Ha was lost in the forest during a night of torrential rain in the central province of Thua Thien-Hue's Phong Dien District on November 15.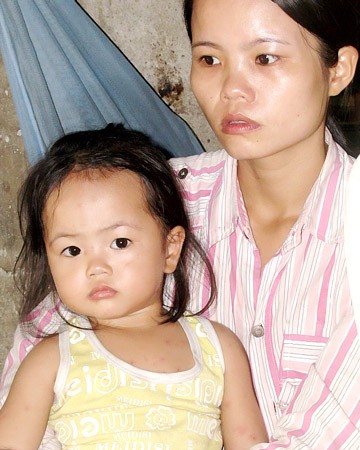 Ha and her mother
At noon of the day, Ho Van Phuong looked after his daughter at his family's farm in Dong Tre Hill, three kilometers from his home in Pho Ninh Village, Phong An Commune.
When Ha had slept, Phuong went out to round up buffaloes. It was heavily rained with fierce winds at that time. 15 minutes later, he turned back and didn't see the daughter there.
"I was very frightened and called people from nearby farms for help," he said. About 50 local residents rummaged the hill to seek for the girl but in vain, Phuong and his wife were exhausted.
At the meantime, the downpour quickly raised flood levels in Bo River and adjacent areas.
Early morning on the following day, Nguyen Gioi in the same village grazed his buffalos near a pond, just one kilometer from Phuong's farm and found the girl shivering with cold in a brushwood.
Several scratches occured on Ha's face and neck while her body was full with mosquitoes bikes and rashes.