The sudden onslaught of Typhoon Son Tinh killed at least eight people and left 23 others injured or missing along the northern coastline, where people were caught unawares and unprepared as this was not forecast as the main storm area.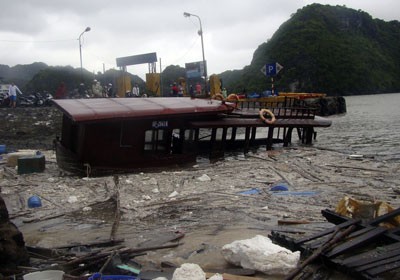 A passenger vessel anchored in Cat Ba Bay of Hai Phong City sank during Typhoon Son Tinh
According to the Central Steering Committee for Flood and Storm Prevention, the typhoon destroyed and blew roofs off 5,073 houses, collapsed 5,500 electric poles, and devastated tens of thousands of hectares of rice and vegetables.
Nam Dinh Province was the worst hit with total damage estimated at VND1 trillion (US$48 million).
Hai Phong City and Nam Dinh, Thai Binh and Quang Ninh Provinces, which were directly hit, were still not fully prepared to brave the storm, which was forecast to hit the north-central region.
Nguyen Tuan Thao, a local resident from Kien Xuong District in Thai Binh Province, said that they were informed of the storm making landfall by 5pm on October 28, only a couple of hours before it really occurred. At that time, heavy rain and strong winds had already rolled in and they could not do any thing.
Local woman Nguyen Thi Dan from Xuan Truong District in Nam Dinh Province said that from the afternoon of October 28 electricity had been cut off and she could not even hear any information about the storm.
Bui Van Duc, director general of the National Hydro-Meteorological Service and Bui Minh Tang, director of the National Center for Hydro-Meteorological Forecasting said that they had done their best to forecast the course and intensity of Typhoon Son Tinh.
Mr. Duc said that all meteorological stations across the country were forecasting the storm and tried to send out periodic bulletins.
Meteorologists referred to forecasts from Hong Kong, Japan, the US and China, kept a very close eye on the storm and gave forecast bulletins when there were any changes. However, the typhoon was moving in an erratic and unpredictable path.
Storms are usually concentrated in the south-central region at this time of the year. Typhoon Son Tinh occurred in waters off the central region but then changed course towards the north.
Mr. Duc said that meteorologists reported to the Central Steering Committee for Flood and Storm Prevention of all courses being taken by the typhoon. However while giving out bulletins, they must mention specific areas so as to prevent confusion among the public.
Mr. Tang said that initially they had predicted the storm would hit the north-central provinces from Quang Binh to Ha Tinh on October 24, but also issued a warning that the storm might head towards the northern region.
At 9pm on October 26, the station updated a bulletin saying the storm might move towards the southern parts of the Red River Delta and strong wind gales would sweep all the way till Quang Ninh Province.
Storms usually reach their peak of level 12 when approaching the Hoang Sa (Paracel) Islands on the East Sea, because of high moisture density.
However after Son Tinh reached level 11-12 in the Hoang Sa Islands area on October 27, it continued to jump to level 14 on the same afternoon. The intensity had strengthened too quickly and suddenly, within 4-5 hours, making it very hard to forecast.
Related articles:
Typhoon leaves two dead, 23 still missing
Typhoon changes course to skirt northern coastline