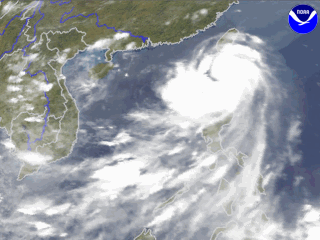 Satellite view of Typhoon Chebi (Photo: www.nnvl.noaa.gov)
As predicted, Typhoon Chebi has spent much of its force and been downgraded to a tropical low.
Last night, the eye of Chebi was located 470 km east-southeast of Hue on the central coast and generating winds of 50 to 61 kph.
Even so, Viet Nam's eighth storm of the year was strong enough to produce waves as high as four meters around the Hoang Sa Islands in the Eastern Sea.
By noon today, the eye of the tropical low was 300 kilometers east of Hue and heading north-northwest at 10-15 kph.
Related articles:
Typhoon Chebi Puts Viet Nam on Alert

Tropical Storm Chebi Moving into East Sea