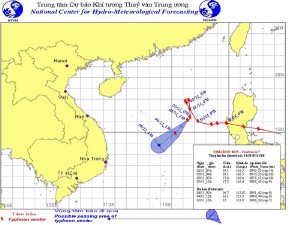 This morning's weather chart showing Typhoon Cimaron downgraded to a tropical low

Typhoon Cimaron is likely to be downgraded to a tropical depression but will still bring heavy rain to Viet Nam's central coast over the weekend, the National Hydrometeorological Center said.

At 8 pm on Friday, the eye of the unpredictable storm was located 400 kilometers from the Paracel (Hoang Sa) Islands with wind speeds of 75 to 88 kph at the center.
This morning, Cimaron was traveling southwest at 10 kph and generating Force 9 winds close to the eye and seven-meter-high waves in the Eastern Sea.
What will be the seventh typhoon to strike Viet Nam this year has proved to be difficult for the meteorologists to track and forecast its behavior.
Due to Cimaron's erratic changes in course, forecasters reckon it has been their most problematic storm in at least ten years.
Because of the danger, the Central Steering Committee for Storm and Flood Control yesterday sent an urgent message to local authorities not to allow fishing vessels to sail into areas near the Paracels, and to prohibit boats in the central coast provinces from Nghe An to Khanh Hoa from leaving port.
The committee asked the relevant sectors to keep their lines of communication open with boat captains operating in the Eastern Sea. Five vessels from Quang Ngai province that were fishing close to the Paracels were told to take shelter and wait for the storm to pass.
Related Article:
Cimaron Veers Back Towards Viet Nam