The death toll from Typhoon Ketsana in Vietnam's central and Central Highlands regions has risen to 101 with 23 other people missing and 200 injured.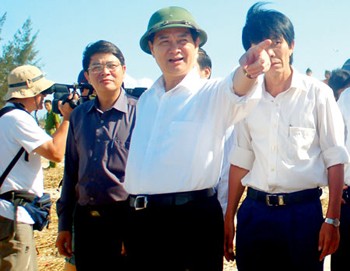 Prime Minister Dung inspects the damaged dike at Cua Dai beach in Quang Nam Province October 1 (Photo: SGGP)

Kon Tum Province saw the highest number of deaths with 30 followed by Quang Ngai with 27.
At a meeting chaired by Prime Minister Nguyen Tan Dung between central and local authorities from six storm-hit provinces the same day in Hoi An town, the Central Steering Committee for Flood and Storm Prevention and Control reported 172,672 houses were destroyed or damaged and 173,611 were inundated and 503 class rooms damaged.
It estimated the economic loss at tens of trillions of dong (VND1 trillion = US$55.5 million).
PM Dung ordered authorities to rescue people from marooned areas and search for the missing.
He announced a relief allocation of VND500 billion and 10,000 tons of rice to the affected provinces.
The chairman of the Kon Tum People's Committee, Ha Ban, asked for two or three more helicopters for rescue work and for troops to help repair houses and roads.
On behalf of the Government, PM Dung offered condolences to families with deceased, missing, or injured members.
He assigned tasks to ministries and local administrations for carrying out immediately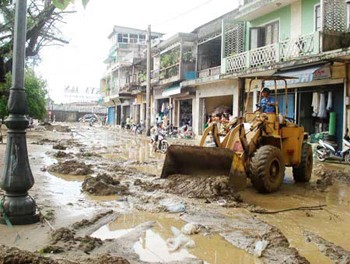 Mud being cleared from a flooded street in Hue (Photo: SGGP)
He said they should soon carry out relief and rehabilitation work and stabilize people's lives, search for missing people, assist bereaved families, and treat injured people.
They should ensure people do not lack food to eat and mobilize all available resources to help people repair their houses.
They should prevent outbreaks of epidemics and restore electricity, water supply, and communication systems and repair schools and health centers at the earliest.
They should mobilize seeds to ensure farming resumes.
In the long term, he said, officials should rebuild traffic systems and prepare residential areas to cope with storms and floods.
The same day he inspected the Cua Dai sea dike in Hoi An which has been seriously damaged.
Elsewhere, the Ministry of Transport has ordered the clearing of rubble from landslides on a section of the Ho Chi Minh Trail between Quang Tri and Kon Tum and reopen the road within 20 days.
The railway is expected to repair a section of the track damaged in Binh Son District, Quang Ngai Province, by October 2.
Electricity of Vietnam said it has carried out repairs and resumed supply to over 80 percent of the people in the central region. But with further repairs being impaired by flood waters, it said it would fix the remaining damage when the floods recede.
Nine Vietnamese workers swept away in Laos floods

VNA - Severe floods swept away nine Vietnamese workers from the Xecaman 1 hydropower plant construction site in Laos on September 29.

Rescue forces have not been able to reach the scene of disaster because all the streets leading to the plant remain submerged in deep water.

The plant is being built in Attapu Province near Laos' southern border by the Vietnamese-owned Vietnam-Laos Electricity Joint Stock Company.

In related news, the chairman of the Vietnam Fatherland Front, Huynh Dam, called on organizations and individual benefactors on October 1 to succor people in storm-hit regions.
His appeal has raised nearly VND5 billion ($278,000), including VND3.5 billion from PetroVietnam.
Ho Chi Minh City has raised nearly VND4 billion for the victims and the campaign will lasts through this month.
The Ministry of Information and Communications is collecting donations through SMS. Between October 1 and 30, people can send messages of encouragement and consolation to numbers from 1401 to 1409 and their service providers will bill them from VND2,000 to VND18,000 and send the money to the ministry.
The Vietnam Southern Food Corporation has donated 300 tons of rice and VND1 billion to victims in Quang Nam, Quang Ngai, and Kon Tum.