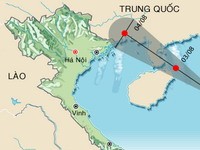 Typhoon Prapiroon's direction
Typhoon Prapiroon is moving towards the northeast of Viet Nam and likely to make flash flood and landslide in the northern regions.
The Central Hydrometeorology Center said the eye of the storm, the third to hit Viet Nam this year, was at 20,1˚N – 112,7˚E at 10:00pm Thursday, 550 km from the northern coastal regions of Quang Ninh and Hai Phong, where the wind scale went to force 12 (around 118 to 133kmh).
Prapiroon is moving towards Viet Nam at a speed of 15kmh and stronger in 12 hours.

Afterwards, the typhoon will head for the northeastern Gulf of Tonkin at a lower speed of around 10kmh.

Typhoon Prapiroon, which is moving at 10-15kmh, will directly hit Vietnam between the northern provinces of Quang Ninh and Thanh Hoa, causing strong winds up to force 7 late Thursday.

North of the East Sea, hurricane winds affected by the said typhoon will reach to force 10 and even to 12 at the eye of the storm.

Hurricane force winds would cause rough seas and widespread rain in northeastern Viet Nam. The weather station has warned villagers of storm-affected regions about the possible flash flood, landslide and deluge.
Related Articles:
Storm Prapiroon Hits Tonkin Gulf
Storm Prapiroon Brings Heavy Rain to Southern Viet Nam
Flood Predicted Possible in Southern Viet Nam