Deputy Prime Minister Hoang Trung Hai yesterday urged local authorities to displace residents from flood and landslide prone areas before 4 p.m. today as tropical super storm Rammasun is forecast to cause downpours and land in the northern coastal area by July 19.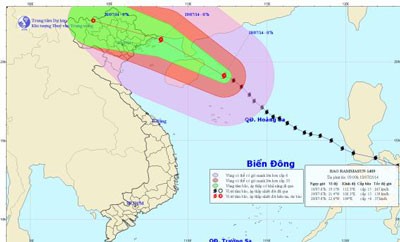 The predicted path of Typhoon Rammasun on July 18 (Photo: National weather bureau)
Mr. Hai said while chairing a meeting with leaders of the Central Steering Committee for Storm and Flood Prevention and Control and provinces that might suffer from Rammasun storm in Hanoi.
Deputy PM Hai asked local authorities to continue guiding vessels to move from dangerous areas and take shelter.
According to the National Center for Hydro - Meteorological Forecasting, the storm might approach the mainland between Quang Ninh and Thanh Hoa Province tomorrow.
From July 18-22, the northern and north central regions will experience heavy rains with precipitation of 200-300mm. Hanoi and Hai Phong are warned of flooding.
The typhoon was located 570 kilometers southeast of Mong Cai, Quang Ninh Province at 7 a.m. today. Strongest winds near the eye of the storm reached level 14-15 moving 150-183 kilometers per hour and gusts were measured at level 16-17.
In the next 24 hours, it is expected to move west northwest at 20 kilometers per hour and might enter the Gulf of Tonkin tonight. The typhoon will locate in the waters off Quang Ninh coast by 7 a.m. tomorrow.
The storm caused heavy rains and flooding in Hanoi capital yesterday. Rammansun is the second storm to hit the East Sea this year.