Typhoon 'Son Tinh', a name chosen by Vietnam, enters the East Sea today after building up in the Western Pacific and may affect the country's central provinces, reported the National Hydro Meteorological Forecasting Center.
This is the 8th typhoon to slam the central region this year.
From tomorrow morning, October 25, the typhoon will generate stronger winds, of level 6 or 7. In the next two days, it will pass the Philippine coast to enter the East Sea.
By the morning of October 26, 'Son Tinh' will be about 600km southeast of the Paracel Islands.
According to meteorological forecasting stations in the world, the typhoon will move fast but its direction will be relatively stable, sweeping through the waters between the Spratly and Paracel Islands.
Typhoon 'Son Tinh', the 23rd in the Western Pacific and 8th to hit Vietnam this year, lay north of the Philippines' Mindanao Island with winds of 62-74 kph and gusts of 88-102 kph until last night.
According to the National Center for Meteorological Forecasts, on the morning of October 24, it measured at scale 7 in the northern region of Mindanao Island (Philippines). Today, October 25, it will move west northwestwards with speeds of 20 miles per hour.
The typhoon is now moving west northwestwards at 20-25km and will enter the central parts of the East Sea by this afternoon with stronger winds of 76-102 kph and gusts of up to 117 kph.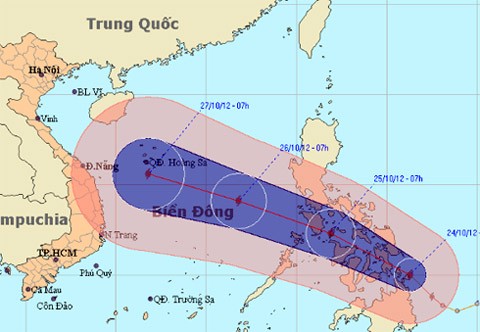 Direction of typhoon 'Son Tinh' (Photo: VNnet).
By this evening, Son Tinh will lie about 900km southeast of the Hoang Sa (Paracel) Islands and continue moving in the same direction towards Central Vietnam.
On Friday morning Son Tinh will be centered around 600km southeast of Hoang Sa, and if its route remains unchanged, it will near Vietnam's central provinces by Saturday, October 27.
Yesterday, the Steering Board for Flood and Storm Prevention and Control and the National Committee for Search and Rescue urged local authorities in the region from Quang Ninh to Ba Ria-Vung Tau Provinces to follow the typhoon's development and prepare plans to cope accordingly.
The ministries of Defense, Transport, Foreign Affairs, Agriculture and Rural Development are also required to prepare enough facilities for search and rescue operations, as and when needed.
All boats out at sea must be kept well informed so that they can take shelter in time, the two above agencies said.