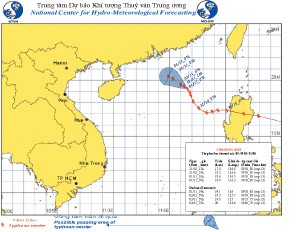 This photo shows the direction of typhoon Cimaron predicted to hit China instead of central Viet Nam
Though fears that Typhoon Cimaron will hit central Viet Nam are temporarily allayed after its shift toward mainland China, Viet Nam keeps up its vigilance.
The Central Hydro-Meteorological Center said that the storm will move northwest at 3 to 7 kph Thursday morning and, for the next 72 hours, will weaken as it heads for Hong Kong, Macau, Guangzhou and Hainan Island.
Mr. Le Van Thao of The Central Hydro-Meteorological Center said predictions were made in reference to data from reliable international weather centers keeping tabs on the storm that are updated every three hours; or more frequently if necessary due to alterations.
The Central Steering Committee for Flood Control and Prevention issued an emergency directive Wednesday to coastal authorities along with defense, fisheries, and transport ministries to keep in close contact with all fishing vessels offshore to inform them about the typhoon's direction.
The committee announced that neighboring countries, China, Indonesia, Malaysia, the Phillipines and Brunei, had agreed to provide temporary shelter for Vietnamese ships in case of trouble.
By 6 pm Wednesday, around 171 Vietnamese vessels carrying 2,486 people were reportedly at sea.
Around 50 cruise ships have been allowed to continue their journey south to Nha Trang Bay as the region should remain unaffected by the typhoon.
Preventing Evacuation Panic
Vietnamese Standing Deputy Prime Minister Nguyen Sinh Hung urged central provinces to quickly ensure that vessels take shelter, particularly fishing boats around Hoang Sa and Truong Sa islands.
He reassured that the involved areas should not rush evacuation because the areas likely to be impacted can be cleared 24 hours before the storm's landfall.
Although the original plan kept schools out of operation after November second, they are likely to reopen promptly.
Provincial authorities from Quang Nam to Ha Tinh should not relax although weather experts have forecasted them to be out of the typhoon's impact zone, he warned.
Mr. Hung also directed the Labor and Finance Ministries to closely oversee the distribution of relief funds for victims to prevent any misappropriation.
Related articles:
Cimaron Changes Its Direction