Tropical Storm Goni, Vietnam's sixth storm of the year, previously forecast to strike Hong Kong, has swerved toward Vietnam and will hit Tonkin Gulf on August 4, weather forecasters said.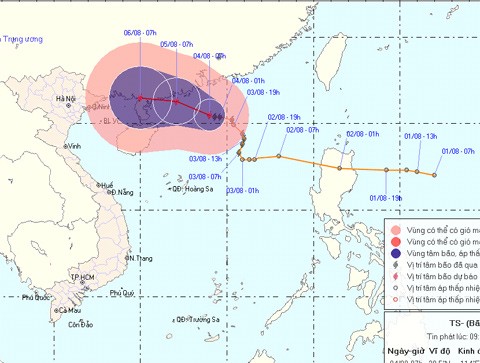 The storm heads to Tonkin Gulf
The National Committee for Flood and Storm Prevention Control convened August 4 at an urgent meeting over the storm.
The director of the National Hydro-Meteorological Forecast Center, Bui Minh Tang, said northern provinces August 5 will suffer torrential rains, possibly submerging parts of Hanoi, Hai Phong and Nam Dinh.
The storm could also cause landslides in mountainous northern regions.
The Minister of Agriculture and Rural Development, Cao Duc Phat, was concerned about heavy downpours and flash floods, as well as landslips closing mountainous roads.
Deputy Prime Minister Hoang Trung Hai has asked all northern provinces, especially coastal and mountainous areas, to be well prepared for the storm in order to minimize losses and damage.
Mr. Hai stressed provinces need to prioritize flood defenses and irrigation dykes as they prepare to harvest crops.
Local administrations in mountainous areas need to verify landslide-prone areas to evacuate people to safer shelters, he added.