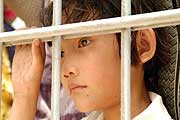 A boy in central Viet Nam worries about his relatives, who have fallen victims to typhoon Chanchu
The Ministry of Education and Training has decided that high school students in central Viet Nam affected by typhoon Chanchu be exempted from the graduation examination 2006, recognizing them as high school graduates.
Late May 25, the Ministry sent this decision to the Departments of Education and Training of Quang Nam, Quang Ngai, Binh Dinh provinces and Da Nang City.
The decision said the specially-treated students are ones whose relatives – including the parents, brothers, sisters or the family custodian – died or were missing in the typhoon; or students whose families are facing difficulties because of the typhoon. These specially-treated students must be qualified for the graduation's requirements.
The ministry's decision came after a proposal by education officials in the typhoon-affected provinces.