Urban environmental planning projects will be undertaken in 10 Mekong Delta provinces using three million euros contributed by the Urban Environmental Planning Program in Viet Nam (UEPP-VN) and the European Commission (EC).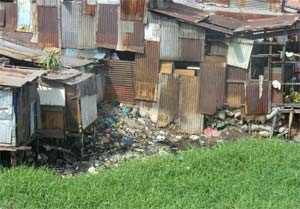 Urban environments in the Mekong Delta provinces will be improved with the assistance of the UEPP-VN and the EC (Photo: U.Ph)
The projects, which are scheduled to last until July 2009, aim to help Mekong Delta provinces improve their environmental planning and management in urban areas.
According to UEPP experts, the projects will be carried out with the participation of local residents to satisfy their demands and aspirations.
 
The minimum capital for each project ranges from 100,000 to 400,000 euros, 10% of which comes from provincial budgets.

Using some of the more than 280,000 euros given to An Giang Province, the authorities of Chau Doc town will place garbage bins, build public toilets, install watering systems and plant more trees around Sam Mountain, a popular place of pilgrimage and well-known tourist destination.
 
Can Tho City is planning to educate its people to raise community awareness of the need for cleanliness and co-existence with the natural environment in Ninh Kieu District.
 
Kien Giang Province is working on a system to handle solid waste in Rach Gia City, and Long An Province on waste classification in Tan An Town.
 
"I hope the concrete works of every small project will give the inhabitants and the authorities of urban areas in the Mekong Delta provinces a new view of environmental protection in their living and working places," a deputy minister of construction said.
 
The Mekong Delta has a population of around 17 million, or 21 percent of the national figure. Of these, 1.2 million people live in the three provinces that routinely experience severe floods, namely An Giang, Dong Thap and Long An.
 
"If the program is implemented successfully, I believe that inhabitants and authorities of areas nearby the projected areas will learn how to conduct similar programs," said Keith Perry, who heads a group of experts from the EC and is an advisor to the EC's Small Funding Project.
 
"Viet Nam has joined the World Trade Organization so urban areas in the countryside will have to be enhanced to catch up with the country's integration progress. If the objectives of the projects are reached, we will seek more financial assistance from the EC to undertake similar projects," he added.