The UK continues to be an important partner for Vietnam, Prime Minister Nguyen Tan Dung told that country's Prince Andrew at a meeting in Hanoi on October 5.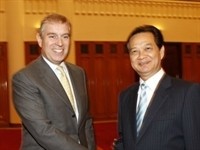 Prime Minister Nguyen Tan Dung receives Britain's Prince Andrew in Hanoi on October 5.
The Prince, who is visiting at the invitation of the Ministry of Foreign Affairs, said his visit is aimed at raising the UK's profile as a major trading and investment partner, exploring investment opportunities for British companies in Vietnam, and encouraging Vietnam to consider Britain as a business gateway to Europe.
Mr. Dung said Vietnam wants to develop its friendship and multi-faceted cooperation with the UK into a partnership for development based on long-term stability and mutual benefit in the spirit of the Joint Declaration by the two countries in 2008.
He promised to create the best conditions for British companies to invest and do business in Vietnam.
The Prince, a special representative of his Government for trade and international investment, hailed Vietnam's good economic performance this year despite the global economic crisis.
He was happy that the UK continues to be Vietnam's leading economic partner in the EU.
So far this year investment by British companies in Vietnam has been over US$2 billion.