Britain's Minister of State for International Development, Hilary Benn, and Vietnam's Minister of Planning and Investment, Vo Hong Phuc, on Tuesday signed an agreement on development relations between their two countries for the 2006-2015 period.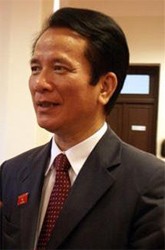 Minister of Planning and Investment Vo Hong Phuc
Under the agreement, the UK government pledges to provide US$450 million in non-refundable aid from now to 2010 to help Viet Nam achieve sustainable socioeconomic growth and its millennium development goals.
The areas covered are poverty reduction, rural transport, education, health, public administration and the fight against corruption.
On the same day, Health Minister Tran Thi Trung Chien went to Vinh Long province to launch a US$85-million healthcare project for the entire Mekong Delta region.
The money is coming in the form of loans from the World Bank, non-refundable aid from the Japanese government, and funds from the Vietnamese government, Ms. Chien said at the launch.
The five-year project will be carried out in the Mekong Delta's 13 provinces and cities, with special emphasis on Can Tho Central General Hospital and Can Tho Medical University.