Yesterday, SGGP spoke to British Ambassador Mark Kent during one of his monthly trips to Ho Chi Minh City on education cooperation between the UK and Vietnam.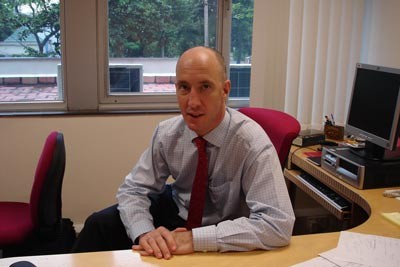 British Ambassador, Mr. Mark Ken (Photo: Uyen Phuong)

1. The UK's Department for International Development (DFID) has been contributing over seven years to various projects. What have they achieved?
Let me put it in the context of cooperation. During Prime Minister Nguyen Tan Dung' official visit to the UK on March 4-5 at the invitation of British Prime Minister Gordon Brown, two countries worked together on five priority areas including trade and investment accords, education and training, development, international affairs, and tackling illegal migration and organized crime. I think education is a key area among the cooperation fields we have.
To assist the government of Vietnam's strong efforts in poverty reduction and growth, the UK government started giving aid to Vietnam in 1992. One area of focus is to help improve quality and access to basic education services. DFID works through the Ministry of Education and Training and provides over £8 million (US$12.89 million) per year for basic education. This investment has brought quality improvements and better schooling for the poor.
As a part of this, over 50,000 primary teachers are being trained; 14,000 classrooms are being built and over one million children are receiving textbooks. Ethnic minority children and children with disabilities are benefiting from new ways of learning that are tailored to their needs including improving skills in Vietnamese language and better-adapted learning materials.
With regards to basic health care, particularly in the HIV field, DFID was the first donor that provided large funding to support HIV prevention. Beginning in 2003 with a grant of £17.5 million (US$28.2 million), our program focused on the high-risk population segment, including injecting drug users, commercial sex workers and migrants. We assisted by providing items to prevent the spread of HIV like free condoms and clean needles, and also free examination and treatment of sexually transmitted diseases. The second phase of this program will commence next year with a further grant aid of £18 million (US$29 million).
2.   The UK has pledged to spend £8.4 billion (US$13.5 billion) on education in developing countries over the next ten years. In what ways will this program benefit Vietnam?
Like Vietnam, the UK is strongly committed to education as a basic human right. Education also plays a vital role in tackling poverty. The UK is now the second biggest donor in Vietnam with an annual grant aid of £50 million (US$80.6 million) until 2010; out of this, over £8 million (US$12.89 million) per year is spent on basic education.
3.   The British Council has grown rapidly in Viet Nam. In addition to the MediaNet training program and the Chevening scholarships, will the British government offer more scholarships to Vietnamese students?

The British Council has got offices in Ha Noi and Ho Chi Minh City that play quite important roles in bilateral cooperation in education.
The British government does not give undergraduate scholarships. But some universities themselves will offer scholarships. The British Council will help Vietnamese students find out about these.
4.   We've heard that you have launched a blog about your work and life as well as about day-to-day work at the embassy. How long have you studied Vietnamese and what motivates you to study the language?
It took me one year to study. It's important to understand about the language and culture of people to be able to communicate. It's also a matter of respect.
Blog of Mr. Mark Ken, British Embassador