UK and Vietnam signed a strategic partnership in September 2010 showing their strong commitment to a wide range of new initiatives.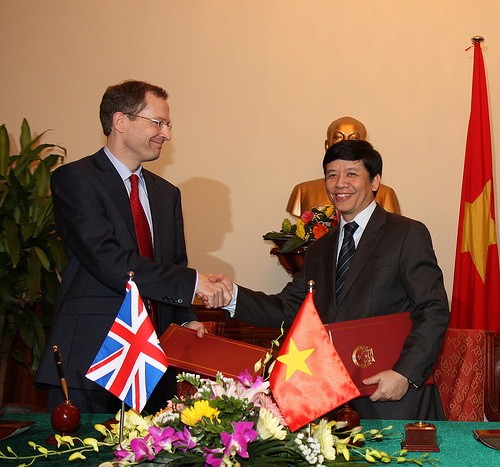 UK and Vietnam sign the Vietnam – UK 2011 Action Plan on January 26, which covers seven areas for development (Photo: Courtesy of the UK Embassy)
Deputy Minister of Foreign Affairs, Nguyen Quoc Cuong and the British Ambassador, Dr. Antony Stokes, signed the Vietnam – UK 2011 Action Plan on January 26, which covers seven areas for development.

The two governments are committed to work together in traditional areas of work such as education, trade and investment. Some future projects include the launch of direct flights between Vietnam and London later this year, the start of the UK - Vietnam International University in Da Nang this year and support from DFID for the Vietnamese anti-corruption initiative, led by the Government Inspectorate for greater transparency and accountability in an effort to reduce corruption in Vietnam.

The two sides plan to also speed up joint activities in 2011 in new and interesting areas such as people–to–people links with a focus on development of the media, creative industries and preparations for the forthcoming London 2012 Olympics and Para-Olympics.  The two partners will also sign a MoU on Defence Cooperation.

Both countries will continue to cooperate on global and regional issues of importance to both parties such as free trade, international development, institutional reform, conflict prevention, munitions and non-proliferation.

Dr. Antony Stokes expressed his excitement for the Action Plan which shows a solid commitment by Britain and Vietnam to work together. The Plan interprets high level agreements by the Strategic Partners into concrete details.

Today, Dr Antony Stokes and Vice Minister for Industry and Trade, Le Danh Vinh signed the minute's agreement of the meeting which took place in London in late November between the UK and Vietnam Joint Economic Trade Committee. This event paved the way to a strong commitment to improve the business environment for both countries. UK is committed to expanding its trade and investment presence in Vietnam.

The full text of the Action Plan has been posted on the Embassy's website: http://ukinvietnam.fco.gov.uk
The plan covers all activities of the British Embassy (including UK trade and investment), the UK Department for International Development and the British Council.

The seven priority areas in the strategic partnership are: political and diplomatic cooperation, global and regional issues, trade and investment, sustainable socio-economic development, education, training, science and technology, security and defence and people to people links.