The Viet Nam Academy of Social Sciences and the UN in Viet Nam have called for both the benefits and costs of migration to be reflected in Viet Nam's national development strategies and plans.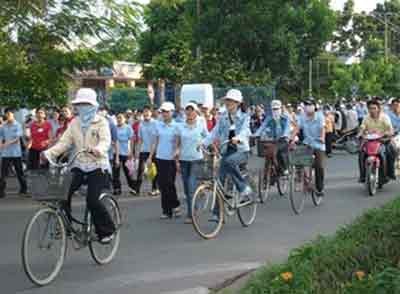 Most of workers in industrial zones are from rural areas
At a workshop on migration held in Ha Noi on October 5, they said this would enable the country to maximize the full potential of migration while reducing the vulnerability that some migrants and their families face.
"Migration can help to enhance human development. However, it is also true that migrants constitute a group that requires special support and protection," said Bruce Campbell, UNFPA Representative, pointing out that the UN remains committed to assisting the Government in developing a supportive environment for internal migration.
The benefits of internal migration are felt at a national and regional level, but also at the individual level by migrants and their families. In Viet Nam, internal migration has been contributing to rapid economic growth and poverty reduction in the last 20 years.
Remittances, which circulate part of the cash migrants earn to families and communities at home, is an important benefit of migration.
The UNDP Human Development Report estimates that the total remittances flowing into Viet Nam in 2007 was US$5.5 billion.
Migrants are among the best educated and most enterprising in rural areas, and use their savings, skills and experience to set up small- and medium-sized businesses in the local economy, thereby helping to create additional jobs and income.
They also benefit from the exposure to new social and cultural influences as a result of migration.
But there are also problems associated with migration. "Migration from rural to urban areas puts pressure on existing urban infrastructure and social services such as housing, health care, electricity, water and sanitation," Dr. Dang Nguyen Anh of the VASS said.
"Migrants are highly vulnerable. Being a migrant is expensive and risky for the poor, especially women and children. Often migrants live in insecure, unsanitary conditions and rarely qualify for poverty reduction schemes that are reserved for residents in the places of destination.
"Employers routinely disregard laws designed to protect migrant workers' needs and rights."
The current residential registration system hinders migrants from accessing the same services and information as non-migrants and unregistered migrants are not included in local authorities' planning and budgeting for social services.
In addition, social stigma can be attached to migrants and they may be viewed by local residents with mistrust and unease. The higher vulnerability of female migrants to sexual abuse and violence places them at risk of sexually transmitted diseases and HIV/AIDS – mainly due to the lack of social protection.
The challenges of migration are not only felt at the destination but also at the departure area. The movement of people from rural areas to cities and industrial zones can have a negative impact on labor markets, especially when those more highly educated or skilled leave. At an individual level, despite the higher household living standards that families left behind may experience from remittances, they also have to deal with the socio-economic and psychological impact of losing a family member. Children left behind are often the most affected by this.
Workshop to consider changes

The two-day VASS-UN workshop will look at the key changes needed in policies and practices to increase options for migrants and their families, especially the poor and vulnerable, so that they, and society as a whole, can benefit from voluntary economic migration.
Participants will also discuss emerging migration issues and how migration is linked to development and poverty reduction; migration and women's rights and health; the impact of migration on families and children left behind; as well as case studies from other Asian countries like China, Cambodia, and the Philippines.
At the workshop, the 2009 Human Development Report (Overcoming barriers: Human mobility and development) was launched.