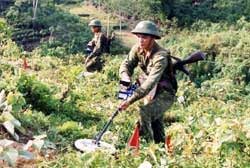 Vietnamese soldiers search for unexploded ordnance and landmines
United Nations Secretary General Kofi Annan has declared April 4th to be the International Day for Mine Awareness and Assistance in Mine Action.
In Viet Nam, UNICEF started its Unexploded Ordnance and Mine Risk Education activities in 2002. UNICEF has supported community- and school-based mine risk education in Central Region provinces including Quang Binh, Quang Tri and Thua Thien Hue.
According to the Ministry of Defense's Technology Center on Unexploded Ordnance and Landmine Disposal, around 20 per cent of Viet Nam's land surface area, equal to 66,578 million square meters, is affected by unexploded ordnance and landmines.

Link
United Nations