Following three days filled with Buddhist rituals, art, music and culture, and philosophical discussions about Buddhism and contemporary life, the United Nations Day of Vesak wrapped up in Hanoi on May 16.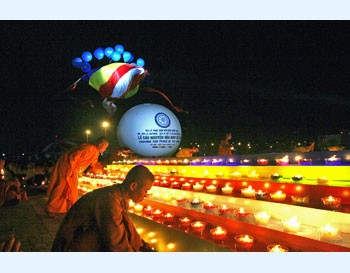 Buddhist monks light candles to pray for peace of the world
Alongside a symphony concert composed by overseas Vietnamese musician Nguyen Thien Dao honouring the life of the Buddha, participants marked the closing ceremony by approving the Hanoi Declaration of the Fifth International Buddhist Conference on the United Nations Day of Vesak.
The declaration put forward 16 articles outlining the international Buddhist community's commitment to building a just, democratic and civilised society including urging international communities to strengthen efforts for world peace, advocating for social justice and solutions to social problems, and affirming urgent action is required to address climate change and forms of environmental damage.
At the closing ceremony, Deputy Prime Minister Phạm Gia Khiem said the conference theme of Buddhism and a just, democratic and civilised society had been demonstrated in a spirit of democracy, harmony and friendship.
He said that during the three days of Vesak, tens of millions of Vietnamese Buddhists nationwide celebrated the Buddha's birthday and welcomed the Vesak Day in the spirit of international cultural exchange and friendship.
"The Vesak is not only an international religious and cultural festival but also an opportunity for the world to further understand Vietnam 's Buddhism and culture, as well as its policy of religious freedom, its great national unity, its love of peace and justice, and its multi-religion culture full of national cultural features," Khiem said.
International Organising Committee for the UN Vesak Day (IOC) President Le Manh That praised the Buddhist community, international organisations and Vietnam for their contributions to success of the conference.
"We acknowledge support by the United Nations, the international Buddhist communities, foreign and domestic delegates and Buddhists," he said.
"Especially, we would like to acknowledge the multi-faceted help by the leaders of the Communist Party of Vietnam and the State of Vietnam for providing favourable conditions for the success of the celebration."
Venerable Dr Thich Nhat Tu, secretary general of IOC, echoed the significance and success of Vesak 2008 in his review of the conference proceedings.
He said Viet Nam hosted the international event successfully with all its power, strong effort and thorough preparation.