The United Nations Development Program (UNDP) will continue to help Viet Nam develop the country's socio-economy in the new period, Setsuko Yamazaki, director of the UNDP in Viet Nam told international and local correspondents yesterday.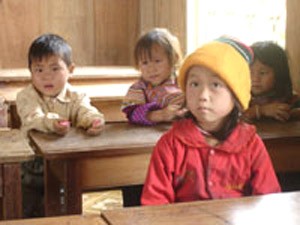 The UN and the EU pledge to help Viet Nam fight against poverty
At the press meeting to announce the UNDP's key plans in Viet Nam, Ms. Yamazaki said UNDP will focus its support for Viet Nam on three issues: giving recommendations on qualified policies to help Viet Nam develop its socio-economy successfully in the post-World Trade Organization period, improving regulations to implement new policies of the world integration period, and enabling people to benefit from development, especially inhabitants in remote and poor areas.
 
On the same day, the ninth EU Blue Book, an annual publication giving an overview on the organization's activities in Viet Nam, was released in Ha Noi.
 
The 2007 publication provides insight into development cooperation programs involving the EU and Viet Nam in 2006 as well as plans that have been laid out for this year.
 
It is the first time the edition contains data from the Ministry of Planning and Investment.
 
According to the book, the EU, the largest provider of subsidies and the second highest of official aid, donated EUR810 million (US$1.1 billion) in development assistance and grants last year. The organization has promised EUR719 million (US$948 million) more for 2007, including grants worth EUR374 million (US$493 million), accounting for 21 percent of the country's total aid.
 
Speaking at the release ceremony, the EU ambassador and head of the European Commission's delegation to Viet Nam, Markus Cornaro, said, "The book is a practical tool that reflects all aspects of cooperation rather than trade activities between the EU and Viet Nam."
 
German ambassador to Viet Nam, Christian-Ludwig Weber-Lortsch, added that the EU would do everything in its power to help Viet Nam and its people.
 
"Basically, the assistance in Viet Nam is donated to help the people. The EU will continue to support the country's development goals, work with Viet Nam to fight against poverty and help enhance human development," he added.