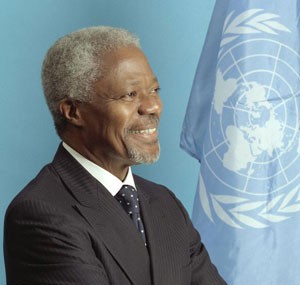 UN Secretary General Kofi Annan
UN Secretary-General Kofi Annan will visit Asian countries including Viet Nam, China, Republic of Korea, Japan and Thailand. The visit to Viet Nam will be from May 23 to 25, and he plans to meet the Party Leader, President and Prime Minister, UN spokesman announced on May 10, 2006.
The Secretary-General will also meet with members of a special Steering Committee set-up to guide the Joint Programme implementation and to increase coordination with Vietnamese government efforts to avoid a deadly pandemic of the H5N1 virus. This Committee is made up of key government, donor and UN officials and under the leadership of the Minister of Agriculture and Rural Development.
The Asia tour is to begin Sunday in Seoul, where Annan is slated to meet with government leaders and speak at Seoul National University, UN deputy spokeswoman Marie Okabe said.
The major focus of his trip will be the discussion of UN reforms , Mr. Annan told reporters Wednesday.
"I`m going to Asia at a critical time for the UN and I will visit several Asian countries that have very important roles to play in this organization," he said.
He will then travel to Tokyo, Beijing, Hanoi and Bangkok. But any discussion of his successor when he steps down in December will be avoided, Mr. Annan said.
Mr. Annan's second five-year term ends on Dec. 31 and Asian and African nations have agreed that his successor should be an Asian, though the United States says the next UN chief should be the most qualified candidate.
The next secretary-general must be approved by the 191-member General Assembly, based on a recommendation from the Security Council.
Before arriving in Asia on Sunday, Mr. Annan plans to spend several days at the European Union-Latin America-Caribbean summit in Vienna, where he is to address the meeting and speak with heads of state.
Mr. Annan will return to New York on the final weekend this month.