Vietnamese people are outraged over the Korean journalist Chae Sung Woo's series chronicles on Vietnamese ladies' marriage to Korean men published on the Chosun Ilbo national daily of the Republic of Korea (RoK). The Korean chronicles were translated and sent to a Vietnamese newspaper by a Korean journalist. In fact, the author of this article, a reporter of the Sai Gon Giai Phong newspaper has the opportunity to see first hand marketing activities for Vietnamese brides by Korean marriage agencies in the RoK. They could be described at best, commercialized and heartless.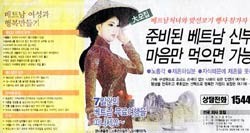 A poster advertises Vietnamese brides in the RoK.
It is not hard to find posters and banners boisterously advertising and marketing for Korean-Vietnamese marriage services popping up all over the streets and residential areas in the RoK, particularly in remote provinces.

The posters and banners are shamelessly flaunting "Let's marry Vietnamese ladies!", "The old, the disabled, anyone who wants to remarry… still can marry a Vietnamese maid", or "Vietnamese brides are available, it's only…your intentions."

Not only using banners, Korean marriage agencies advertised information together with portraits of Vietnamese ladies on print media and websites.

Browse webpage of the Cyclo Wedding company, an international marriage agency in Seoul, people can view dozens of portraits of Vietnamese ladies with detailed information about their age, height and weight, etc.

"If you are a member of this marriage service, you can view close-ups of the portraits, further information about the girl whom you want to choose…" said a Korean.

After the "Chosun event", photos and information about Vietnamese ladies on websites have been moderated to some extend, but yet it is still abound.

In 2005, Chinese brides topped the topten list of foreigners married to Korean men with 20,635 marriages, Vietnamese brides stood second with about 6,000.

Previously, if a Korean man wanted to marry a Vietnamese, he had to pay Korean marriage agencies US$15,000-20,000. However, the once lucrative market has now got more competitive, so the package price currently comes down at over US$10,000, covering airfare, wedding ceremony costs, traveling, etc.

Almost all profits on the service go to international marriage rings. Vietnamese brides' families will receive only about US$200-300 at the most.

It is probably the huge profit of the trade that Korean marriage agencies do not hesitate to use sensational advertising words which normally are used only for promoting commodities.

Lots of Vietnamese working and living in the RoK, even Koreans whom we met, were very angry. They agreed that authorities ought to raise their voice in stopping such an uncultured marketing.