Despite all efforts by Binh Dinh Province authorities to prevent illegal mining of titanium, for the last two years, rampant mining of titanium continues unchecked in Phu Cat District, most of which is being transported to ports in Quy Nhon City and makes its way to overseas markets.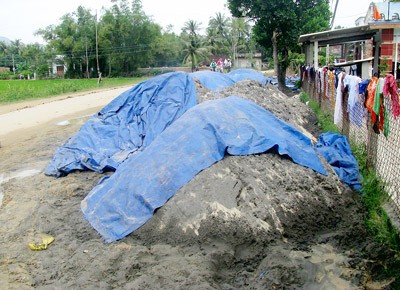 Titanium lying piled along the 639 road in Cat Thanh Commune of Phu Cat District (Photo:SGGP)
Many people wonder why local authorities cannot find measures to deal with the problem while the country is losing a valuable natural resource.
In February this year, titanium was lying piled up along the 639 road in Cat Thanh Commune. Hundreds of motorbikes belonging to illegal titanium miners could be seen parked alongside the road.
Nguyen Van Thanh, head of Chanh Thien village said the whole village including children are involved in illegal titanium mining at any given time.
At VND700-1,000 per kilogram of raw titanium, each person can make a profit of VND100,000-300,000 per kilogram per day.
Illegal exploiters temporarily stop only when local authorities come to check, and often they mine titanium even at night.
Illegal titanium mining began in 2007 in Cat Thanh, Cat Khanh and Cat Hai Communes of Phu Cat District. At that time, the local authorities implemented measures to stop the exploitation, but only for a while.
Early last year, the BIMAL Company stopped titanium mining when their licence expired, and handed the mine back to the province.
Since then, illegal mining caught on with now over 400-500 people, someday even 1,000, flocking to mine titanium and sell to buyers, for easy money.
In October 2011, the People's Committee in Binh Dinh Province asked related departments to implement measures to stop the illegal mining.
Thanh complained that local authorities did not penalise violators so illegal mining has continued.
According to the provincial People's Committee, people flock to exploit titanium for easy profits and as of February 2012, there are 27 titanium magnates who are buying the raw titanium.
Pham Dung Luan, deputy head of the Department of Natural Resources and Environment in Phu Cat District, has sent instructions to stop selling raw titanium out of the province and any illegal purchases. However, all titanium from the province is being bought by magnates and transported to Quy Nhon City. Therefore, to stop illegal mining, the province authorities need to take stronger measures by penalising miners and arresting illegal buyers and smugglers.