Fifty percent of irrigation water for 500,000 hectares of coffee plantations in the Central Highlands comes from underground wells, whose numbers usually increase during the dry season when local farmers try to tap maximum groundwater for their parched crops.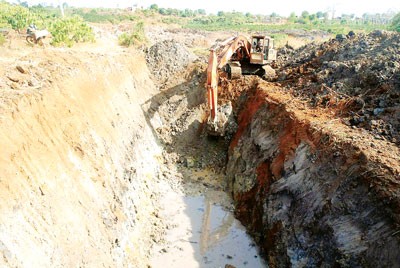 Effort to draw ground water in Ia Dom Commune in Duc Co District of Gia Lai Province (Photo: SGGP)
Nguyen Truong Thinh, a local man from Chu Se District in Gia Lai Province, was seen digging a well to irrigate his 2.2 hectares of coffee plants.
Thinh said that the prolonged heat wave this year has depleted the water in his well and he has had to spend VND30 million ($1,433) to dig a new and deeper well. Workers cleared soil and rubble to a depth of about 20m but still failed to touch water.
Most households in Dak Ha District of Kon Tum Province use well water to irrigate their coffee plants.
Ho Van Quynh, a local man from Dak Mar Commune in the District, said that each household has from 1-3 wells each but there still isn't sufficient irrigation water during the dry season.
Similar conditions prevail in coffee growing areas in Dak Lak and Dak Nong Provinces.
When water levels hit bottom in reservoirs in Ea Tul Commune of Cu M'gar District in Dak Lak Province, local people resort to digging wells in the vicinity of Ea H'ra irrigation reservoir to draw water for their coffee plantations.
The coffee cultivation area has broadened in the Central Highlands over the last few years, which has put a lot of pressure on water resources, especially on ponds and springs so as to stretch irrigation water to far off fields.
Dak Lak Province has 190,000 hectares of coffee plants, of which 56 percent use well water; and 80 percent of 75,000 hectares in Gia Lai Province are also dependant on the same water source.
Within just six years, the numbers of drilled wells have gone up from 47 to at least 200 now. Of these, only 70 are licensed.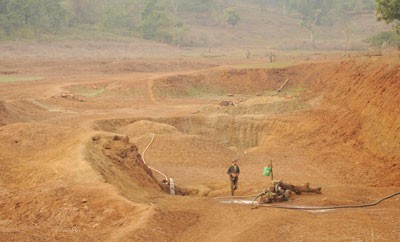 Residents dig wells in the vicinity of Ea H'ra Irrigation Reservoir to draw water for their coffee plantations in Ea Tul Commune in Cu M'gar District of Dak Lak Province (Photo: SGGP)
According to Le Thanh Xuan, deputy head of the Department of Irrigation in Gia Lai Province, excessive digging of wells, low rainfall, long-lasting dry season and heavy deforestation have reduced underground water level by 3-5m and even 7-8m in places in the Central Highlands.
The Ministry of Agriculture and Rural Development has reported that the Central Highlands lost nearly 26,000 hectares of forest cover from 2005-2012.
 
Besides, residents indiscriminately dig for underground water, said
Duong Dinh Hoanh, an official from the Department of Natural Resources and Environment in Dak Lak Province.
Agricultural experts have advised farmers to use only 120 liters of water per coffee plant every 20-22 days in the first year. The volume of water will thus increase within the next two years. Only mature coffee plants need about 500 liters of water each.
However, coffee growers are watering about five times in the dry season with 600-700 liters a plant, and wasting 300-400 liters.