A 20kV submarine cable line came to Ly Son island district in the central province of Quang Ngai on September 8, as part of a project to power the locality round the clock.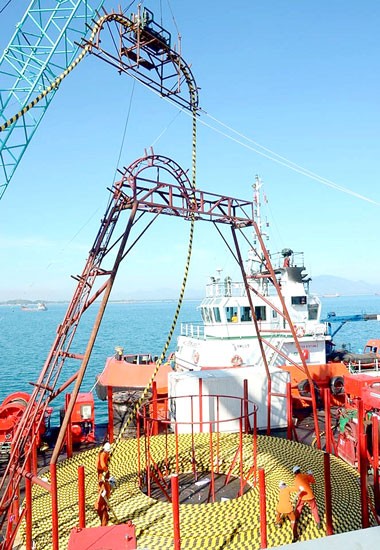 (Photo: Sggp)
The line will be connected to a transformer station in the district's An Vinh commune on September 10 and power will be generated on a trial basis five days later.
According to Tran Ngoc Nguyen, Chairman of the Ly Son People's Committee, the event will help promote the locality's socio-economic development, especially when it is focusing on marine-based economy and tourism.
The 652.5 billion VND (31.1 million USD) project includes 8.7km of middle voltage transmission lines in Binh Son district and 26.2km of 22kV undersea cables. It has been implemented by the Prismian-Thai Duong, a joint venture between two German and Vietnamese companies.
The transmission line network connecting Ly Son with the national grid is expected to put into operation on September 28, benefiting 22,000 islanders.
Fifteen nautical miles from land, Ly Son, covering 10 sq.km, is the only island district of Quang Ngai.
It lies on the sea route from the north to the south of Vietnam and at the gateway of Quang Ngai's Dung Quat Economic Zone, as well as of the central key economic region.-VNA