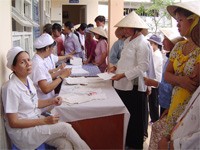 Taking care of the community's health is one of UNDP's priorities. (Photo: Yen Chuong)
The Action Plan on Viet Nam national development program 2006-2010 was signed by Planning and Investment Deputy Minister Dr. Cao Viet Sinh and Mr. Subinay Nandy, Acting United Nations Development Program (UNDP) Resident Representative in Ha Noi on May 9.
Accordingly, UNDP commits to grant Viet Nam an US$78 million non-refundable aid, including US$30 million from the UNDP's regular budget and US$48 million which will be mobilized during the implementation.
UNDP will give priorities to support Viet Nam's socio-economic development in such fields as poverty alleviation, improvement of educational infrastructure, community health care and HIV/AIDS patient care, and gender equality.