Yesterday, 25 experts from the UK Mine Advisory Group (MAG) project successfully defused a bomb discovered six days ago by Mr. Nguyen Ngoc An in Bo Trach District, Quang Binh Province in his garden.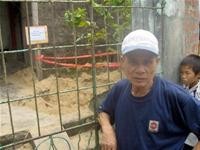 Part of Mr. Nguyen Ngoc An's yard holding the bomb is cordoned off.
It took an hour to remove the fuse from the bomb, said MAG technical coordinator, Mr.Tran Xuan Thang.
To ensure safety, local authorities had to evacuate residents living within a 400-meter radius.

The bomb was later transported to warehouse T9 in a forest in Bo Trach to be demolished there.
Related Article: