An unexploded wartime bomb discovered by a resident of Quang Binh province while digging in his garden last Sunday is still to be defused.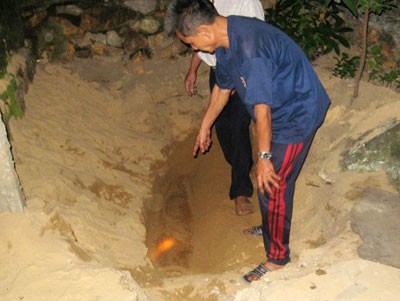 Nguyen Ngoc An shows a reporter where he found the unexploded bomb (Photo: Van Minh)
Nguyen Ngoc An of Bo Trach District immediately moved the 1.6-meter-long device to a sand dune behind his house and promptly informed the other villagers and the authorities.
Five days passed before district officials and technical coordinators from the Mines Advisory Group project came to his house. But even they said they could not defuse the bomb.
An and his fellow villagers are understandably living in fear.
It's been 32 years since the end of the American War but countless unexploded munitions remain, threatening thousands who live around the old battlefields in Quang Binh, Quang Tri and Ha Tinh.
An astonishing 10,597 people in the three central provinces fell victim to unexploded ordnance between 1975 and 2004.
A survey done last year found that 4,817 of them had died from injuries.
In all, some 40,000 Vietnamese people have been killed by bombs since the war ended.