The United Nations Children's Fund (UNICEF) will continue supporting Vietnam in executing its socio-economic development goals, increasing the sustainability of its achieved Millennium Development Goals, and boosting child care and protection.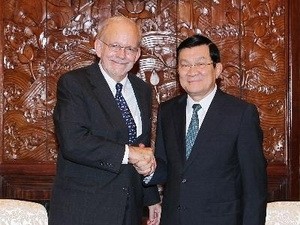 President Truong Tan Sang welcomes UNCIEF Executive Director Anthony Lake (Source: VNA)
The pledge was made by visiting UNCIEF Executive Director Anthony Lake, who is in Vietnam from May 29-30, during his meeting with President Truong Tan Sang in Hanoi on May 29.
During the event, President Sang emphasised that Vietnam always gives priority to child care, protection and education, and the implementation of international conventions, including the United Nations Convention on the Rights of the Child (UNCRC).
He spoke highly of UNICEF's support for Vietnam over the past time and asked for the fund's continued support in making policies and mechanisms to promote children's rights and their growth and its greater assistance to Vietnamese children, especially those with disabilities and victims of Agent Orange/dioxin and wartime unexploded bombs and mines.
For his part, Lake recognised Vietnam 's commitments and progress in child care and protection over the last years and expressed his wishes to increase its long-term growing cooperation in the area with the country.
On the same day, the UNICEF official had a meeting with National Assembly Deputy Chairwoman Nguyen Thi Kim Ngan, who called for the fund's further assistance in the making of laws in line with the UNCRC.
Deputy Chairwoman Ngan highly valued UNICEF's role in child care, protection and education in the world, and thanked the fund for helping Vietnamese elective agencies to improve their capacity.
Lake said Vietnam has proved its leading position in accomplishing Millennium Development Goals, which is good for its children.
According to the UNICEF official, Vietnam is among the countries that led in calculating the data on children with disabilities and his organisation will select central Da Nang city to organise a conference to publicise assessments of children with disabilities in the world in the coming time.
During his working visit, the UNCIEF Executive Director worked with Foreign Minister Pham Binh Minh and Minister of Labour, Invalids and Social Affairs Pham Thi Hai Chuyen.
He will preside over a ceremony to announce a report on the State of the World's Children 2013 in central Da Nang city on May 30.