Around 20 people have been attacked since September 2009 by an unidentified marine species, suspected to be a shark, while swimming in waters off the central coast.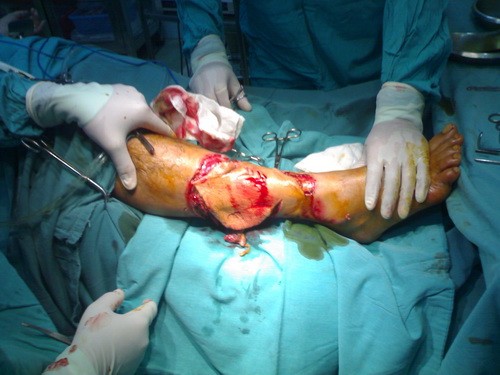 Doctors perform surgery on the leg of Nguyen Quang Vinh, the first of around 20 victims to be attacked by an unidentified marine animal in waters off the central coast. Vinh was attacked on September 18, 2009. (Photo: Tuoi Tre)
The latest victims are two Quy Nhon University lecturers who were attacked January 10 off the coast of Binh Dinh Province.
The two are in stable condition and are not suffering from any subsequent infections, said Vo Sy Tuan, deputy director of the Nha Trang Oceanography Institute.
Most victims said they were swimming around 150 meters off the coast of Quy Nhon Town when a type of fish with rough, gray skin attacked them. The creature looked to weigh around 20-30 kilograms, the victims added.
Experts from the Nha Trang Oceanography Institute January 12 spoke with the two lecturers, local fishermen and residents, and concerned agencies to try and verify what kind of species it was.
Local fishermen said only fish that were related to shark species could cause such injuries. The fish usually swim near the coast to feed on food thrown into the sea by people, they added.
Nguyen Huu Hao, chief of the Binh Dinh Provincial Bureau for Aquatic Resources Exploration and Protection, said the agency has arranged for a boat to patrol the beach during peak hours. Hao has also proposed to set up a rescue station on the beach.
Officials in Quy Nhon Province announced they would take measures to ease visitors' sense of safety, including offering a reward to anyone who can catch the creature.