Ho Chi Minh City has succeeded in controlling leaf diseases in paddy fields caused by brown plant hopper Nilaparvata lugens but Mekong Delta provinces are still coping with an epidemic triggered by the damaging insects, officials said on Thursday.
About 90% of paddy fields in Ho Chi Minh City's outlying districts have gotten rid of these insects except for Cu Chi District, said Mr. Le Hong Hoanh, deputy director of the city's agriculture department.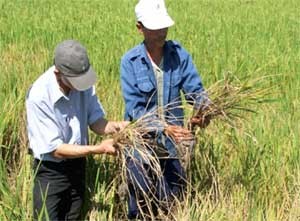 An agriculture official (L) and a farmer check a paddy field affected by brown plant hopper Nilaparvata lugens in the Mekong Delta (Photo: SGGP)
The official, speaking in a meeting on fighting against the leaf diseases, added that the city government has presented almost VND188 million to affected rice farmers to support them. Further financial assistance will be remained in the next few weeks.
Meanwhile, the Mekong Delta provinces of Long An, Ben Tre, Soc Trang, Tra Vinh and Dong Thap are seeking to narrow down areas harmed by the leaf diseases.
The insects have attacked up to 119,000 hectares of rice in these provinces, causing leaf diseases on 66,000 hectares, said Mr. Dam Quoc Tru, deputy chief of Viet Nam's Plant Protection Department.
Even worse, the department predicts that these insects would cause much more harm on December 20 or so. Therefore, the southern provinces must make more great efforts to protect paddy fields in the current winter-spring crop, which is the most important for both the Mekong Delta and the entire country.