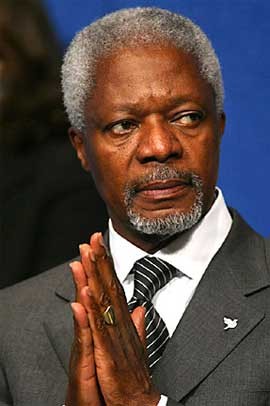 UN Secretary General
UN Secretary General Kofi Annan met Chinese Premier Wen Jiabao on May 22 and discussed United Nations reform and Beijing's efforts at alleviating poverty, a UN official said.
Annan is on a five days visit to China. Yesterday, he was to meet State Councillor Tang Jiaxuan and was expected to hold more discussion on the Iranian nuclear issue.
Annan also has a speech at Peking University on May 23 before departing for Viet Nam and Thailand from May 23 - 25.
UN General Secretary Kofi Annan, in an interview with Vietnamese reporter before his official visit to Viet Nam, expressed his pleasure at the fine relations between Viet Nam's government and UN organizations.
Viet Nam and the UN have cooperated effectively in various kinds of projects to reach the Millennium Development Goals by 2015, he said.
(Sources: Xinhua, VNA)