Sidewalk eateries have mushroomed at educational centers, where candidates await university entrance examinations, failing to meet with food safety and hygiene standards and rendering many susceptible candidates sick.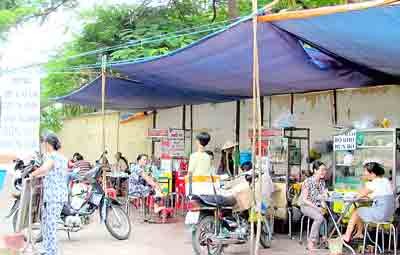 Sidewalk eateries serving food in unhygienic conditions in front of Nguyen Thai Son primary school on Huynh Tinh Cua Street in District 3 (Photo: SGGP)
A long line of rice and noodle shops have sprung up on Huynh Tinh Cua Street in district 3 in front of Nguyen Thai Son primary school.

Dirty bowls, chopsticks and wastepaper scattered around the restaurants and some restaurants even place the dirty dishes on the sewer covers.
One shop assistant said that the restaurants only sell meals in the morning hours but serve rice in the afternoons to candidates coming for their entrance exams.

Do Minh Chieu a pho shop owner said that the People's Committee of ward 8 only gave permission for these eateries to families who were under the poor beneficiary's welfare scheme.
A volunteer student of the program 'Giving strength in exam season' at exam venues said last year two candidates suffered food poisoning in these eateries.
Shop assistants admitted they had not been given certificates of food safety and hygiene. Parents of candidates fretted, saying that they would rather cook for their children than let them have meals in these eateries.
Huynh Le Thai Hoa, chief of the Food Safety and Hygiene Department in Ho Chi Minh City, said he has sent a dispatch ordering medical preventive departments of the districts to monitor all sidewalk eateries to prevent any food poisoning cases.