Unseasonable rains in Tra Vinh Province in the Mekong Delta since Tet have wiped out salt that was ready to be harvested and the shrimp crop.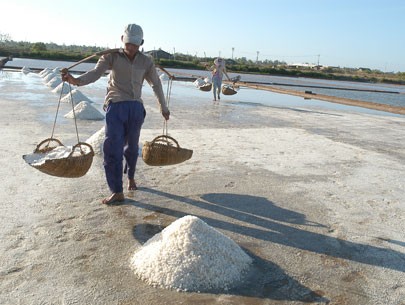 This undated filed photo shows salt harvested in a Mekong Delta province
There are 450 families making salt on over 270 hectares in Duyen Hai District and they have lost their produce to the persistent rain that has fallen since the lunar New Year at the end of January.
Shrimp breeders too have been affected badly. Around 300 hectares of shrimp have been wiped out in Duyen Hai and Cau Ngang Districts after the rain caused a sudden fall in the acidity and salt levels of the water.
Since the beginning of March rains have also destroyed hundreds of hectares of rice crop, according to reports from Kien Giang Province.
The Dong Thap Province Department of Agriculture and Rural Development said farmers are set to lose much of their crops because of the rains.