Tomorrow, about 1,300 delegates and 140 guests will join the 6th National Buddhism Congress reviewing the Vietnam Buddhist Sangha's (VBS's) activities over 2002-2007 and work out an action plan for the 2007-2012 term.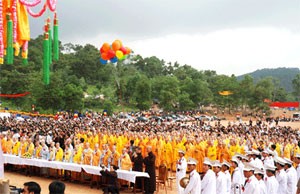 Vietnamese Buddhist followers attend the birth anniversary of Lord Buddha in Soc Son, the outlying district of Ha Noi, June 1, 2007
The congress will elect the Standing Board of the Sangha Council, its Patriarch and other positions of the Standing Board of the Executive Council.

A ceremony will be held to receive the Independence Order bestowed by the President and a certificate of merit signed by the Prime Minister.

Since its inception in 1981, the VBS has been working hard to prove that Buddhism is the religion of peace and that it has made worthy contributions to the nation's construction and development cause.

The VBS has done its best to increase the places of worship from the initial number of 12,500 to 15,000 today with a contingent of dignitaries, monks and nuns now numbering some 40,000 and 10 million Buddhist followers.

From the only Buddhist institute named Van Hanh in Ho Chi Minh City and a few high schools built before 1981, the VBS now runs four institutes, six colleges, 31 high schools and hundreds of grassroots Buddhist schools.

Around 200 monks and nuns have received Masters and PhD degrees in Buddhism overseas while tens of thousands of others receive training at domestic Buddhist academies.

In May 2008, the Viet Nam Buddhist Sangha will host the United Nations Day of Vesak 2008 (birth anniversary of Lord Buddha). Over 100 countries have so far registered to participate in the event to be held for the first time in Viet Nam.