Phu Long bridge, crossing Sai Gon river to connect HCM City's district 12 with Binh Duong province's Di An district, began construction yesterday.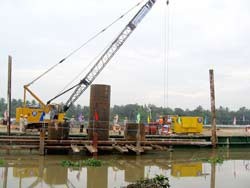 The new bridge's construction is 700m far from the current bridge. (Photo: SGGP)
Built by Ho Chi Minh City Dept. of Transport, the four lane bridge, 594m long and 26m wide, will cost VND700bn ($41m) and be completed in two years.
The current bridge was built in 1913 and has deteriorated badly in recent years.
"Phu Long bridge is the desire of people in HCMC and Binh Duong province, and will play an important role in traffic reduction and promote economic development in the southeast region of Vietnam", chairman of HCMC, Le Hoang Quan said at the ground breaking ceremony.
Later the same morning, the Ministry of Transport and People's Committee of the Mekong Delta province of Tien Giang began upgrading the 52km section of highway 50 in Tien Giang province.
The project will cost VND1.2bn ($68m) and is expected to be completed in three years.
The new road will be widened to 12m with two lanes and allow speeds of 80km an hour.
Highway 50, 88km long, begins from HCMC and crosses the coastal regions of provinces Long An, Tien Giang and ends at My Tho city of Tien Giang province.
The project is designed to help complete the road network and create conditions to develop the economy of Tien Giang, Long An and HCMC.