Dr. Pham Sy Liem, deputy chairman of the Vietnam Federation of Civil Engineering Associations and former deputy minister of Construction, spoke with Saigon Giai Phong Newspaper on the country's urban management system which according to him was far too outdated and behind times.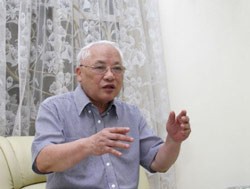 Dr. Pham Sy Liem (Photo: SGGP)
Development of urban areas has taken place too quickly but not sustainably, said Mr. Liem. Urban management has failed to catch up with the development speed and is not in tune with modern urban needs.
The Land Law of 1993 lists urban land as one of six kinds of land areas. However, when it was modified in 2003, it removed urban land and listed land only in two categories of agricultural and non-agricultural land. The law did not consider appropriately the role of the urban sector in the country's common development plan.
Consequently, authorities find it difficult to lay down statistics on urban land areas but only demarcate it as office land, housing land and national defense land.
Without clear statistics, how can relevant authorities do proper urban planning? They also cannot tax urban land, which is a waste, he said.
Vietnam's planning mentality belongs to the previous century, which divided land in separate categories for housing, office, factory, sports and commerce use.
New urban areas in Hanoi have been built with single storey houses without services centers, schools and hospitals.
Modern planning should encourage the use of land for mixed functions to create multifunctional urban areas. This will reduce dependency on vehicles to go shopping, to schools or amusement centers. This will cut distances and time to travel and facilitate development of public transport.
While urban development is moving quickly, the country's management policy is making no headway. All know that urban areas are different from rural areas, but the administrative institutions for both areas are the same. 
For instance, central cities are being managed like provinces, county seats like districts and towns like communes.
Administrative regulations are for provinces, districts and communes with only some supplementary clauses for urban authorities, even though urban areas contribute 70 percent of the country's Gross Domestic Product.
Urban management should be done by urban level administration with concentrated and integrated power.
There are several models of urban management. In the current model in Vietnam, residents vote for the People's Council, this then elects a chairman from the People's Committee to be Mayor.
According to Mr. Liem, there are other urban management models. For instance, residents can elect People's Council and Mayor separately. Or residents can vote for a municipal council and the central Government can appoint a Mayor.
Better late than never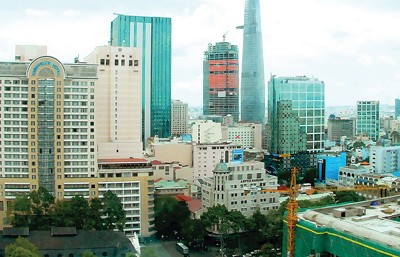 A corner of District 1 in Ho Chi Minh City (Photo: SGGP)
Saigon Giai Phong raised the question that the establishment of an urban administration will create several problems, for instance, migrants will be limited to urban areas.
To which Mr. Liem responded that restricting migrants is narrow thinking and according to market law, people flock to developed areas where they can find employment.
These urban areas also need migrant labor for developing their localities. Restricting migrants is in fact weak urban management.
In the next 10-20 years, if relevant authorities do not change their urban management style then environment pollution and traffic jams will worsen, he said.
The country should have sent officials to learn urban management and planning techniques from developed countries ten years ago. However, it is still not too late, and better late than never. Currently Vietnam is desperately in need of efficient human resources to manage modern urban planning.