Sixty-four years ago, the people of Rach Gia Hamlet, Hung Long Commune, Binh Chanh District, conducted an armed up-rising against the French, which partially contributed to the success of the August Revolution (August 19, 1945). The victory marked a turning point in the glorious road of the country's history, as it fathered the independent Democratic Republic of Vietnam.

From more than six decades before

Nguyen Thanh Ca and many other residents still remember the day local people went together in crowds to Saigon's city center to celebrate the success of both the uprising and the revolution after President Ho Chi Minh read the Declaration of Independence.

Ca said, "We carried our self-made weapons, like scimitars, knives and swords. On our way to the city center, we repeatedly shouted the slogan" Independence!" and waiving flags. We cheered and shouted, and even cried. The atmosphere was filled with a revolutionary fervor."

To prepare for the uprising, said Ca, local people had set up their own armed forces for years. Hau My Temple was turned into a revolutionary base of the Vanguard Youth Campaign. All people were waiting for an appropriate opportunity to rise in arms and seize power.

And now

That happened more than six decades ago when Hung Long was still an underdeveloped low-lying agricultural area regularly flooded by high tide. Nowadays, rapid urbanization has given a new face to the commune.

Anchored along both sides of the canal running past Rach Gia Hamlet are ships and boats loaded with goods and cargo. Bustling trading activities have paved the way for the building of new urban zones along both sides of the canal, too.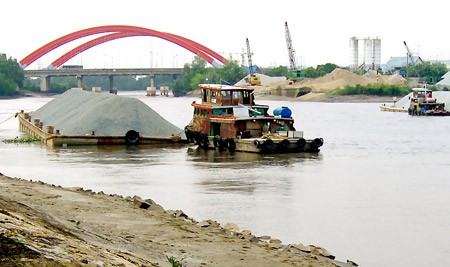 A view of modern day Rach Gia (Photo: SGGP)
Country Road 1 used to be muddy basalt –soil path, but now has been turned into an asphalt street with villages and buildings standing one after the other. The road leads to a newly built market, which is always crowded with sellers and buyers.

The commune's People's Committee chairman, Nguyen Hien Duc, said, "The entire commune covers a total area of 1,300 hectares, mostly agricultural land. Investments in building irrigation works, including tanneries Hung Long – Quy Duc, Rach Gia, Ong Doi and Rach Say, have created favorable conditions for people to grow two crops of rice a year, instead of one, with average annual yields of between 3.8 and four tons per hectare."

"The application of modern science and technologies into agriculture has brought a new gust of wind to lives of thousands of local farmers," said Duc. "They are reaping in more profits thanks to areas which specialize in growing one kind of vegetable or fruit or breeding one kind of animal."

Duc pointed out that farmers who breed ornamental fish now can seek an annual profit of VND50 to 80 million a hectare, while raising cattle for meat brings VND6-10 million a year.

Growing orchids and organic vegetables also brings good profit to farmers with annual profits between VND20-40 million a hectare and VND6 -80 million a hectare respectively, added Duc.

At present, most houses in the commune have been hooked up to the electricity grid and some 90 percent of families in the commune have got access to safe water.

There are currently 57 businesses creating jobs for more than 3,000 workers and local people have donated thousands of meters of land to build roads.

Hung Long is no longer a poor commune.

According Hung Long Party Committee's plans, by the end of 2010, investments in telecommunications, electronics, handicrafts, building materials and building storehouses and grounds along the banks of Can Giuoc River will be encouraged to boost economic development in the commune.

Hung Long Commune was granted the title "Hero of the People's Armed Forces" in 1995 for its significant contribution to the wars against French domination and US invasion.

Rach Gia Hamlet and Hau My Temple were also recognized by the HCM City People's Committee as city-level cultural and historical sites.