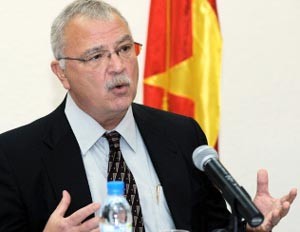 US Ambassador Michael Michalak speaks during the press conference in Ha Noi January 20 (Photo: AFP)
U.S. Ambassador to Vietnam Michael Michalak on Jan. 20 spoke optimistically of the expansion and deepening of US-Vietnam cooperation in 2009.
Speaking with the press in Ha Noi, the Ambassador said that 2008 "is a very good year for the relationship between Vietnam and the United States." He said that the year was highlighted by the visit of Prime Minister Nguyen Tan Dung to Washington, taking their bilateral relationship to a new level.
He went on to say that 2008 also saw Vietnam's continued integration into the global community and it doing an outstanding job in serving as a non-permanent member of the UN Security Council and becoming a major partner of the U.S. in both the region and the world.
According to Michalak, the economic and trade relationship has continued to grow even during a very difficult 2008. He said that many US companies have come to Vietnam to seek investment and trade opportunities, and that more would follow.
The Ambassador viewed Vietnam's stimulus package of US$1 billion as a proper reaction and that the country has taken the necessary measures to overcome the economic difficulties.
Regarding educational relations, Ambassador Michalak said that during 2007, Vietnam was ranked 20th among countries sending students to the U.S. to study, and in 2008, it had risen to the 13th place.
He added that his goal is "to double the number of students going from Vietnam to the United States", and he hopes that some time in the near future, he would be able to say that he "finally reached that goal".
Answering question regarding the foreign policies of new U.S. President Barack Obama, the Ambassador said he believed that the U.S. would expand and deepen its relations with Vietnam across all fields.