Shrimp export companies have raised objection against a preliminary decision by the US Department of Commerce (DOC) to impose anti-subsidy tax of upto 5.08-7.05 percent on warm water shrimps from Vietnam, calling it unfair and unreasonable.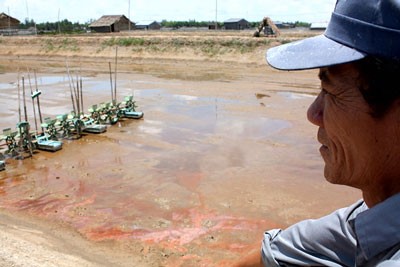 Several shrimp breeding ponds lie vacate because of fear of disease (Photo: SGGP)
According to the DOC preliminary decision, Minh Phu Company and Nha Trang Seafood Company will have to suffer tax of 5.08 percent and 7.05 percent respectively for receiving subsidies from the Vietnamese Government. The rate will be 6.07 percent for other companies in the country.
The Vietnam Association of Seafood Exporters and Producers (VASEP) said that it is unfair because Vietnamese businesses have not received subsidies from the Government for the last several years.
The decision will directly affect the lives of 600,000 breeders together with workers at shrimp processing plants.
Le Van Quang, chairman of the Minh Phu Company, said that the high tax imposed will cause losses for them, especially at a time when exports are facing a lot of difficulties.
He said that shrimp companies have been self-motivated in their operations and do not receive subsidies from the State.
The People's Committee in the Mekong Delta province of Ca Mau said that shrimp farming and export is backbone of the province. They are targeting US$1 billion in shrimp export turnover this year.
The US market plays an important role in shrimp exports from this region. As a result, tax increase will cause much difficulty for businesses and breeders.
Ca Mau authorities will coordinate with related ministries, departments, VASEP and businesses to prove the above preliminary decision irrational.
DOC is expected to give their final decision on the anti-subsidy tax on August 10.
VASEP and authorized organs are also working with lawyers to minimize the tax rate.

Businesses said that some policies have been proposed to assist shrimp breeders, who have been badly hit by diseases. For instance, a hectare of dead shrimp will be assisted with VND20 million (US$953).
Some preferential policies to boost shrimp processing and breeding have been announced but are still on paper. In fact, none of them have enjoyed any preferential policies.
Vo Hong Ngoan, a shrimp breeder in Vinh Trach Dong Commune in Bac Lieu City, said that they are stricken due to consecutive diseases which have killed hundreds of hectares of shrimps for the last two years.
Several of them do not dare to continue farming because the diseases have still not been curbed.
Ngoan said that they need authorized organs to help control the diseases in breeding shrimps and provide chemicals to sterilize the environment to prevent further damage.
DOC's final decision has not been given but shrimp prices have dropped by VND2,000-5,000 a kilogram in the Mekong Delta compared to the time before DOC announced their preliminary decision.