Regarding to the lawsuit of Vietnamese AO victims against chemical corporations of the United States, the U.S.Court of Appeals, Second Circuit in New York, has decided to further delay the first hearing, which was scheduled for April 10, said an official of the Vietnam Association of Victims of AO (VAVA) on May 17.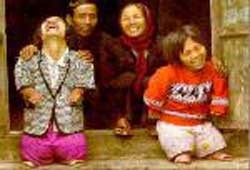 A Vietnamese AO victim family
The first hearing could be delayed to August or even to December, 2006. The AO victims' appeal against U.S. chemical companies, rejected by the U.S Primary Court, has been accepted by the U.S Court of Appeal.
However, the first hearing has been delayed many times for one year without a clearly stated reason.

So far there have been nearly 13 million signatures to support the lawsuit filed by the Vietnamese AO victims.