The US Supreme Court's rejection of Vietnamese Agent Orange (AO) victims' petition against US companies that produced toxic chemicals used in the Vietnam War is a wrong and unjust judgement, said Tran Xuan Thu, Secretary General of the Vietnam Association of Victims of Agent Orange/Dioxin (VAVA).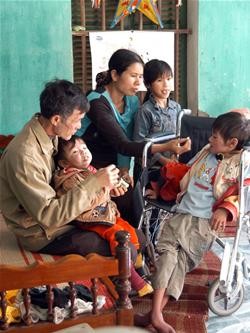 A family of Agent Orange in Hanoi (Photo: Tien Phong)

VAVA will hold a press conference Mar. 4. They will express their determination to continue their struggle for justice for Vietnamese AO victims and call for more support for them, said Thu.

Lawyer Jonathan Moore, counsel for VAVA, stressed that the struggle would continue until they gained justice for all Vietnamese AO victims, as well as others who were victims of the 'chemical war' conducted by the US government in Vietnam.
In 1961 – 1971, US troops used about 80 million liters of herbicide in Southern Vietnam, including nearly 400 kilograms of dioxin. About 4.8 million Vietnamese were exposed to dioxin, of which some 3 million have become AO victims, VAVA said.
On October 6, 2008, VAVA lodged its petition to the US Supreme Court, calling for a reconsideration of the decision by the Appeal Court on the lawsuit brought against companies that produced the toxins.
In the 41 page petition, VAVA said that verdicts by the US First Instance Court and Appeals Court were contrary to US juridical procedure.
Those verdicts also deliberately denied the reality that AO has had serious consequences for millions of Vietnamese when they said that chemicals used by the US troops in the war were herbicides, not substances that are toxic to human health.