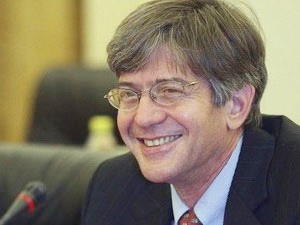 US Deputy Secretary of State James Steinberg who is on a visit to Vietnam (Photo: VNA)
A delegation of high-ranking US officials led by Deputy Secretary of State James Steinberg arrived in Vietnam September 27 to discuss strengthening of bilateral ties.
In its meetings with the Foreign and Defense Ministries, the two sides expressed optimism about the relationship.
They agreed to step up ties in all spheres to benefit both countries and contribute to maintaining peace, stability, cooperation, and development in Southeast Asia and Asia-Pacific.
Speaking to the local and international media, Mr. Steinberg affirmed that the US wants to strengthen ties with Vietnam.
The relationship must be based on an expanded cooperation in economics, trade, investment, education, health, and defense, he said.