Vietnamese Prime Minister (PM) Nguyen Xuan Phuc yesterday welcomed a delegation of the United States enterprises led by senior vice president of the US- ASEAN Business Council Mr. Michael Michalak, at Governmental Official.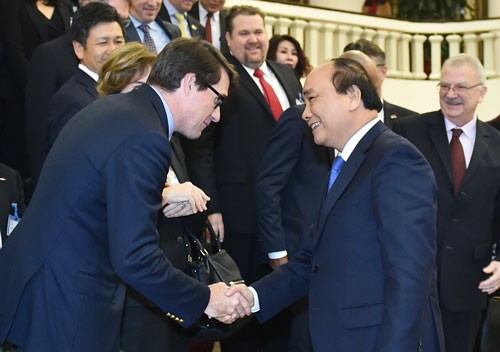 Vietnamese Prime Minister Nguyen Xuan Phuc welcomes a delegation of the United States enterprises.
The US investors considered that Vietnam's investment and business environment has been clearly improved in the previous time, and they also desired to continue expanding long- term business investment in the Southeast Asian country.
PM Nguyen Xuan Phuc highly appreciated contributions of the US enterprise stressing that Vietnam has innovated, integrated and created favorable conditions for the foreign investors, including the United States firms.
Vietnam pledged to implement trade free agreement which took effect, and continue developing preferential policies for foreign investors.