A US diplomat has applauded the Vietnamese Government's willingness to hold dialogues with other nations to issue suitable policies, saying it is a necessary condition to integrate deeply into the world.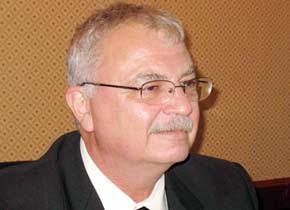 US Ambassador Michael Michalak
US Ambassador to Viet Nam Michael Michalak made the remark at a meeting with Mr. Huynh Dam, President of the Viet Nam Fatherland Front Central Committee, in Ha Noi on August 18.
Michalak said he was impressed by the Vietnamese people's friendliness and openness, as well as the country's rapid development in all areas, particularly in economy.
The ambassador pledged to work to foster bilateral cooperation for mutual benefits and increase charity and humanitarian activities to support the poor.
Speaking of the Viet Nam Fatherland Front's role, Dam emphasized that its key task is to build the great national unity bloc of all Vietnamese, including overseas Vietnamese for the goal of bringing independence and freedom to the people and building a democratic, equitable and civilized socialism.
Mr. Dam urged his guest to continue promoting support and assistance to Vietnamese Agent Orange /dioxin victims.