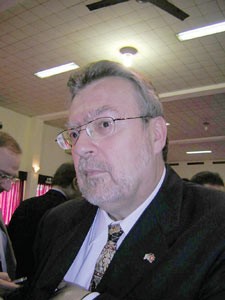 US Ambassador to Viet Nam Michael Marine
US Ambassador to Viet Nam Michael Marine believes the US Congress will approve the bill on Permanent Normal Trade Relations (PNTR) with Viet Nam.
There is no reason for the Congress not to ratify the bill; it's just a matter of time, he told reporters right after a speech at the meeting held by the Ho Chi Minh City Union of Friendship Organizations and the US Diplomatic Mission in Viet Nam on Wednesday.
More than 300 business people, government officials and university academics took part in the meeting.
Mr. Marine said that the most important requirement in building the relationship between the two countries was mutual understanding.
In his speech, the ambassador summed up the main events involving Viet Nam and the US over the last 15 months.
He referred to significant achievements in their bilateral trade cooperation as well as cooperation in healthcare, information exchange dialogues, assistance to people with disabilities, resolving issues related to bombs and mines and seeking the missing in action, and cultural and educational exchange activities.
The ambassador said that Viet Nam had made increasingly important contributions to the Association of Southeast Asian Nations and other multilateral forums and expressed his belief that Viet Nam would fulfill the international community's expectation in playing a more significant role in the region and the world.
The US wished to develop its ties with Viet Nam, a country with a large population and an important market for the US, he added.
He predicted there would be a huge flow of investment into Viet Nam once the country joined the World Trade Organization, including from the USA.