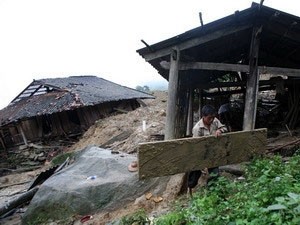 Vietnam is one of the 10 countries suffering most natural calamities in the world (Photo: VNA)
The US Trade and Development Agency (USTDA) has pledged almost US$583,000 in aid to help Vietnam develop a disaster management project to stem the impact of natural disasters.

An agreement to this effect was signed on Aug. 14 in Ha Noi by USTDA acting director Leocadia I Zak and general director of the Ministry of Agriculture and Rural Development's Department of International Relations, Le Van Minh.

The project would help strengthen the ministry's flood forecasting, early warning and disaster management, Zak said.

The 18-month project is scheduled to start in November this year.

Due to its geographical location, Vietnam is especially prone to typhoons with high winds, floods and landslides.

According to a ministry report, over the past 10 years, the number of people dead and missing from natural disasters annually is around 750, and property destroyed amounts to about 1.5 per cent of the country's GDP.