US naval ships, a guided-missile destroyer USS Fitzgerald (DDG 62) and a Freedom-class littoral combat ship USS Fort Worth docked at Tien Sa Port, Da Nang City on April 7.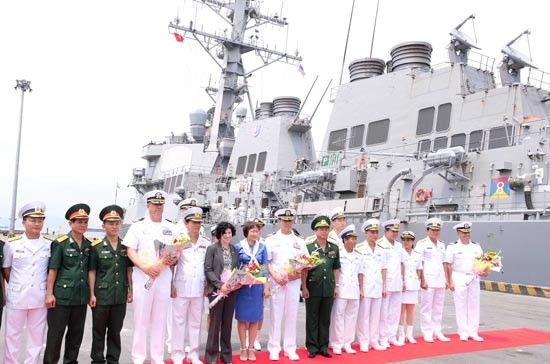 US naval forces welcomed in Da Nang -SGGP photo
The visit is one of the activities in the 6th annual Naval Engagement Activity (NEA) between Vietnam and the US, marking the 20th anniversary of the normalization of diplomatic relations between the United States and Vietnam.
The ships are commanded by a Vietnamese-America commander Le Ba Hung who visited Da Nang with his ship, the guided-missile destroyer USS Lassen (DDG 82) in 2009.
During their five-day visit, Vietnamese and US naval forces will take part in exchange activities, such as medical training, diving, search and rescue, maritime security and ship maintenance; a long with music performances and sport games.
The two country's naval forces will join a session for practicing the Code for Unplanned encounters at Sea (CUES), which was adopted at the 2014 Western Pacific Naval Symposium held in Beijing.